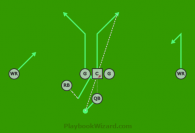 Primary routes are deep routes run by the center and guard. Halfback steps up to block. Blitz check down is the strong side wide receiver on a slant.
| | |
| --- | --- |
| RB | Block the center or guard's defender if they rush and don't cover man. |
| QB | If the defense blitzes or sends more than two rushers look to the WR on the slant. If not, look to the center on the post or the guard on the flag. |
Line Deep is an offensive 7 on 7 flag football play from the Wing Left formation and is authored by Fantasy Football. For football offensive formations or to see this play in action head over to footballplaysnow.com.