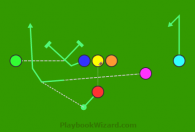 The slot receiver and the weak side receiver motion to a stacked alignment at the weak slot position. The quarterback throws a quick outside screen to the back receiver and the front receiver blocks.
| | |
| --- | --- |
| | GREEN: Block the defender covering PURPLE. |
| | BLUE: Block the defender covering GREEN. |
Slot Motion Screen is an offensive 7 on 7 flag football play from Shotgun Slot which is a shotgun spread formation with three linemen, two wide receivers, and one running back lined up in the slot. This play is authored by NFL Package. For flag football play designer free or to see this play in action head over to footballplaysnow.com.