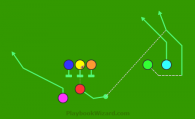 From a Shotgun Twins formation Green motions then runs a slant, Turquoise goes on a post, and Purple runs a drag to the flats. Red rolls out to the twins side of the formation then passes the ball to Green on the slant.
Ideally Green's defender gets caught up in Turquise's post route freeing Green for the pass.
Shotgun Twins 287 Bootleg Green Slant is an offensive 7 on 7 flag football play from Shotgun Twins which is a twins formation with two wide receivers lined up to one side of the formation, one running back in the backfield on the opposite side, and the quarterback in the shotgun. This play is authored by NCAA Football. For free football play designer or to see this play in action head over to footballplaysnow.com.