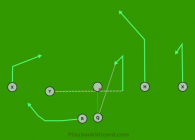 | | |
| --- | --- |
| Q | Quick throw when Y breaks on his route. Anticipate which way he will break based upon LB alignment |
| Y | Option Route: Break inside or outside based upon LB alignment after motion |
Hitch Option is an offensive 7 on 7 flag football play from Doubles which is a This play is authored by Robin Pedranti. For football defensive plays or to see this play in action head over to footballplaysnow.com.