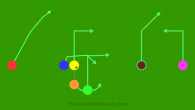 Quarterback is rolling to his right avoiding blitzers and looking for an open receiver.
| | |
| --- | --- |
| | QB will roll to his right looking for open receivers. QB also has an option to throw deep to red if he is behind coverage. |
Roll Out Right is an offensive 7 on 7 flag football play authored by LuisR. For football play maker or to see this play in action head over to footballplaysnow.com.