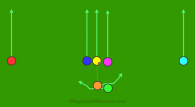 QB will read the lineman that are blitzing and will decide whether to hand it off to green or keep it and run.
| | |
| --- | --- |
| | QB must read the blitzing defense and determine whether it is best to hand off or fake the hand off and run it himself. |
Read Option is an offensive 7 on 7 flag football play from Base Shotgun Spread which is a shotgun spread formation with three linemen, two wide receivers, and one running back. This play is authored by LuisR. For offense playbook football or to see this play in action head over to footballplaysnow.com.