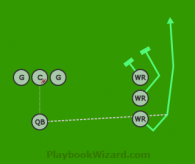 Stacked trips formation screen to the back wide receiver. Front two receivers block to the inside creating a running lane along the sideline.
| | |
| --- | --- |
| WR | Block the second defender from the sideline. Leave the innermost defender unblocked. |
| WR | Ideally the innermost defender will get caught up in the other blocks but, worst case, you'll have to outrun him to the edge and up the sideline. |
| WR | Block the outermost defender. |
Stack Sideline Screen is an offensive 7 on 7 flag football play from the Shotgun Stack Trips formation and is authored by Football Coach. For free online football play designer or to see this play in action head over to footballplaysnow.com.