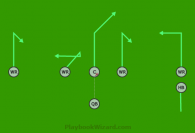 QB – Throw to any of the routes or pass back to HB to throw.
HB – Steps behind the QB to throw.
Start from left to right receivers: WR – Runs a curl route; has option to run or pitch back to the WR running the whip route.
WR – Runs a whip route; has option to pick up a pitch back from other WR.
C – Runs post fro possible pass from QB or HB.
WR – Runs a hitch route.
WR – Runs a 5 and in.
Tornado is an offensive 7 on 7 flag football play from Split Q which is a spread the offense across the field and thin out the defense. The Qb ligns up about 10-12 yds from center. With a hard, good snap the QB should immediately setup to throw and limit the rusher's effectiveness.
A huge key to this offense is the option for the HB. It sets up as a receiver and can run routes or drop back and play a wide QB.
If rushers put too much pressure on QB he has the obvious option to run, or he has his HB stepped back to play QB from near the sideline.
Have the outside WRs line up within 1-10 yds from sideline with the HB lined up about 2 yds behind one or the other. This play is authored by Coach Bell. For free youth football playbook or to see this play in action head over to footballplaysnow.com.