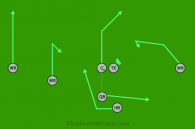 QB – Receives snap and fakes handoff to HB; rolls right and throws to open route. If rusher blocks from rolling, then do not roll out.
HB – Runs behind QB to receive fake handoff and then runs fly.
Start from left to right: WR – Fly.
WR – Hitch
C – Post left
TE – Blocks; if able, then runs a slant out for a dump throw.
WR – Runs a drag and stop at about 10-15 yds in.
Ice Breaker is an offensive 7 on 7 flag football play from Ace Right which is a line the QB about 5-8 yds behind center with the HB about 2 yds behind and 2 yds to the right. A TE will be there for blocking/receiving.
Spread the WR to spread the defense. This play is authored by Coach Bell. For best football playbook app or to see this play in action head over to footballplaysnow.com.