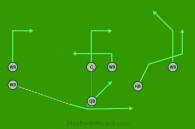 QB – Handoff to motioned WR and then run slant to right.
HB – Wheel route.
Left to right: WR – Motions to Qb and receives handoff.
WR – 5 and in.
C – 5 and out to right.
WR – 2 and in underneath the C.
WR – Post
Eclipse is an offensive 7 on 7 flag football play from Triple Q Option which is a similar to the Split Q formation in most areas except the HB plays a little closer to the QB and one of the WR becomes an option for the QB. This play is authored by Coach Bell. For best 5 on 5 flag football plays or to see this play in action head over to footballplaysnow.com.