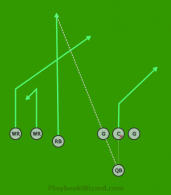 RP=Right Post (C)
QB
Watch the Safety, he has to choose between WR1 or RBThrow to outside shoulder of RB

Throw outside shoulder of WR2 as soon as he begins to break down to cut to not give DB time to react.
Rover 849 RP is an offensive 7 on 7 flag football play from Rover which is a This play is authored by Tonetone824. For free defensive football playbooks or to see this play in action head over to footballplaysnow.com.