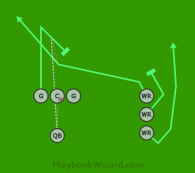 Stacked trips formation fake screen to the strong side of the field. Weak side guard runs a curl and pitches to the front receiver who comes across the field on a crossing route.
| | |
| --- | --- |
| G | Catch the pass and pitch to the crossing wide receiver. After the pitch block his defender who should be trailing the pattern. |
| QB | Fake the screen and throw to the guard runing the hook. If that's covered look to the back wide receiver running up the sideline. |
Interior Hook and Lateral is an offensive 7 on 7 flag football play from the Shotgun Stack Trips formation and is authored by Football Coach. For football playbook offense or to see this play in action head over to footballplaysnow.com.